Ergoresearch announces the exclusive launch of the new plantar orthosis, "Chic!"
LAVAL, QC, April 5, 2017 /CNW Telbec/ – With the support of Ergoresearch Ltd (TSXV: ERG), the Équilibre banner—the largest network of orthotists and inhalotherapists in Quebec—is once again enhancing its offering with the exclusive launch of the new plantar orthosis "Chic!".
With its thin and tapered special design, "Chic!" is made to be worn with high heels and dress shoes. "Even if they need the orthopedic support, many of our patients don't wear their orthosis all of the time because it doesn't fit in their more fashionable or dress-type shoes. Our research and development team came up with a solution, which means that wearing an orthosis is no longer limited by the type of shoes being worn", explains Sylvain Boucher, president and CEO.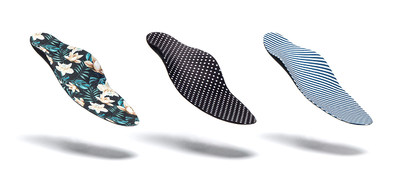 Built with a new material that's both waterproof and breathable, the "Chic!" orthosis is available in a range of fashionable designs. Patients can now be chic to the tips of their toes with one of the three limited-edition, spring-inspired patterns: polka dots, stripes, or floral.
"By responding to our clientele's critical need for an orthosis that combines both comfort and fashion—and due to its unique market position, the "Chic!" orthosis allow us to stand out from the competition. Thanks to the input of our team of dedicated professionals, our patients will be able to maintain the right posture in all of their shoes", adds Mr. Boucher. "What's more, today's launch is the result of our dedicated initiatives to constantly leverage technology to create new products that drive our leadership position within the industry."
About Ergoresearch 
Ergoresearch is a Canadian company that designs and manufactures cutting edge technologies and solutions for the orthopedic industry. The company is listed on the Toronto Stock Exchange and trades under the symbol "ERG". With a portfolio of patents relating to orthopedics and human bionics, the company is a leader in the creation of custom-made orthotic devices. Ergoresearch has also developed the most influential network of orthotist clinics in Quebec, under the banner "Équilibre", with over 70 clinics and points of service throughout Quebec.
About Équilibre
Équilibre—orthotic devices ("braces") and biomechanics, is the largest network of orthotists in Quebec, which provides a host of biomechanic device solutions. Driven by wide-ranging innovation and the expertise of healthcare professionals, Équilibre's mission is to get people moving by reducing pain, rehabilitating motor functions and optimizing performance. Thanks to its 70 clinics and points of service, Équilibre is now found in all corners of Quebec.
This communication does not aim to encourage the purchase of shares on the Toronto Stock Exchange. Neither TMX Group Limited nor any of its affiliated companies endorses or recommend the shares in question. Please obtain the advice of a specialist to evaluate specific shares.
Related links (photos and videos) : chic.equilibre.net / www.equilibre.net
SOURCE Ergoresearch Ltd
For further information: Sylvain Boucher, President and CEO – Ergoreseach Ltd, Tel: 450-973-6700, extension 213. sboucher@ergoresearch.com