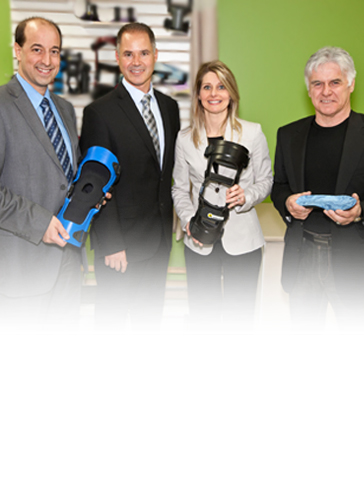 The Team
Sylvain Boucher
President, CEO
M. Boucher has been an entrepreneur in healthcare and medical technology for close to twenty years. He studied kinesiology and graduated from Université de Montréal in optometry, in 1994. Later, a visit to western Canada led him to exercise his profession: He joined IRIS, Le Groupe Visuel in 1996. He successfully launched over a dozen franchises and became company vice-president, shareholder and administrator in 1999.
M . Boucher actively participated in the purchase of Groupe Fort Optical in 2002. This acquisition positioned IRIS as the leader in opticals in Quebec and across Canada. Groupe IRIS sales progressed significantly under his mandate.
In 2005, M. Boucher became president-CEO and shareholder at Ergoresearch.
Danielle Boucher
Vice-President
Mrs. Boucher is an entrepreneur and founder of la Clinique du Pied Équilibre, which was sold to Ergoresearch in March 2005. Her clinical skills and ability to integrate new technologies into her practice are unique. A member of the Ergoresearch Board of Directors since April 2005, Mr. Sylvain Boucher is her brother.
Frederic Petit
Vice-President, Operations
Mr. Petit has been Director of Operations at la Clinique du Pied Équilibre since 2007. Under his stewardship, this subsidiary has known a stunning progression. He was promoted to VP–Operations at Ergoresearch in Fall 2010. Mr. Petit has been an entrepreneur from a very young age. He was co-owner of the active lifestyle banner Québec Sportif, which was sold to Groupe Forzani in 1995. He later successfully exploited various business endeavors in the area of swimming pools and recreational spas.
Louis Desrosiers, Eng., M.Sc
Vice-President, Research and Development
Mr. Desrosiers is a development and innovation technology specialist. He has over 20 years' experience in the industrial manufacturing sector, in addition to 10 years in orthopedics. Among other pursuits, he was co-owner of the Autonomie Santé banner.
Copyright © 2012 Ergoresearch Inc. All rights reserved.