Results for the fourth quarter and the fiscal year ended June 30, 2015 – Ergoresearch reports its 2015 annual results
LAVAL, QC, Oct. 28, 2015 /CNW Telbec/ – Ergoresearch Ltd ("Ergoresearch" or "the Company") In recent years, sales at Ergoresearch have seen a significant increase. Between 2005 and 2014, the Company increased its sales by 1,931%, thereby confirming its status as Quebec's leading manufacturer of "intelligent" custom orthotics and speciality orthotics. Efforts in 2015 were dedicated to consolidating gains and developing the ERP-Health platform, which will support future growth. As a consequence, financial results are down this year. Revenues reached $15,498,000 this year, a decrease of 13% from last year. Last year's results included the non-recurring revenue generated by the monetization of the sleep apnea technology, in the amount of $589,948. Revenues for the period ending June 30, 2015, were negatively affected by the closure of two orthopaedic labs in Laval.
As for the financial position, Ergoresearch still has a cash equivalent of more than $10 million that the Company plan to use over the next few years. However, given the recent decline in activities, the absence of cash flow investment to fuel growth in 2015 and within the IFRS' regulations, management has decided to revise the amount of deferred income taxes and tax credits appearing as assets, by an amount of $6,401,319. This readjustment has no impact on cash flow, and the Company still benefits from the same fiscal attributes as shown in the 2015 Consolidated Financial Statements, Note 19. The amount of the said fiscal attributes appearing as assets will be reviewed periodically.
The net income and comprehensive income for the period ending June 30, 2015, therefore amounted to ($7,023,218) compared to$1,230,153 for the period ending June 30, 2014.  Non-recurring charges, in the amount of $339,912, also affected the current year's earnings.  The adjusted EBITDA amounted to $665 601 in 2015, compared to $2 247 785 for the period ending June 30, 2014.  Cash provided by operations decreased from 1,774,141 in 2014 to $1,335,207 for the period ending June 30, 2015.
Sylvain Boucher, President and CEO stated:
This past year was dedicated to consolidating our gains and laying out the foundations for future growth. We have simplified the corporate structure by merging eight legal entities. We also bought out our minority partner, Orthoconcept (now merged into Laboratoire Victhom Inc.), and have completed three major initiatives:
We finalized the implementation of our ERP1– Health platform.

Far from the usual ERP—we have designed a software ecosystem in the health sector.  We have developed and added a point-of-sale module on the basic modules, as well as a calendar module, which is linked to the electronic patient file, and a monitoring module for our manufacturing units; we have also integrated our proprietary platforms such as the pressure sensor pad and 3D scanner.
By integrating tools for measurement, analysis and medical imaging into patient files, we have facilitated multidisciplinary practices, sharing of information, all while optimizing the efficiency and effectiveness of patient service.   In the context in which having access to a physician remains a challenge, this tool could become a key development factor in years to come.

The Company finished rolling out its new corporate banner, reuniting its various clinical divisions under one brand name "Équilibre". As a result, since October 2014, Orthoconcept, Laboratoire Podotech, Laboratoire Langelier and Clinique du Pied Équilibre have all operated under this same banner.  Given the nature of our activities (by medical prescription), transitioning to a single banner is complex and requires an adjustment period. Nevertheless, management sees many advantages to this amalgamation, from a marketing standpoint as well as from the perspectives of medical representation and patient communication.

Prior to the transition, the Company had three laboratories in the Laval area. The restructuring led to the closure of two laboratories. The redirection and transfer of patient files was seamless, but it negatively impacted a portion of this year's revenues.

Despite implementation of the consolidation strategy, the Company intensified its R&D efforts. Today, the Company holds eight families of patents in more than twelve countries, in orthotics, prosthetics, medical technologies and human bionics.

Our R&D team is currently working on four projects. The

National Research Council

of

Canada

(NRC) and the Natural Sciences and Engineering Research Council (NSERC) have agreed to contribute funding for these projects, and it appears that once these efforts come through.  new patents could be applied for.
Also, work continued on clinical studies confirming the OdrA's effectiveness, and we expect to release the results soon.
Development and perspectives
Our current priorities and development plans include the following:
Strengthened by our cash position, reactivate the exploration of potential acquisitions in

Quebec

and across

Canada

.
Developing a multidisciplinary approach that unites "Équilibre" with dedicated orthopaedic health professionals under one roof.
Continuing to market the OdrA brace.
Turning a profit from investment in our ERP-Health platform by increasing the group's efficiency and effectiveness.
Continuing our investments in Research and Development (R&D)
Mr. Boucher adds: "I would like to thank all of our employees for their dedication and their ongoing desire to improve.  The development and deployment of our ERP-Health platform required involvement at every level.  Such a success is remarkable given the relatively small size of the group but the platform's potential is huge. Progress and commitment are values we all share and they have allowed us to make great achievements this year."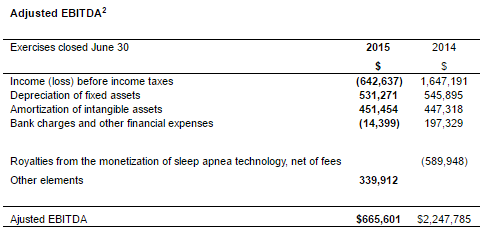 About Ergoresearch
Ergoresearch is a Canadian company that designs and manufactures cutting edge technologies for the orthopedic industry. The Company holds a portfolio of patents in the bionics field, including the intellectual property used in the Power Knee, the world's only motor-powered AI prosthesis for above-knee amputees. Ergoresearch designed and commercialized WebFit™, the first robotized custom-fit orthotics manufacturing software program and launched OdrA, a new category of orthotic that, with the action of its world-patented distraction-rotation action, revolutionizes the treatment of pain associated with knee osteoarthritis.
Ergoresearch owns the largest orthotics network in Quebec, now known as Equilibre. The Corporation is listed on the TSX Venture Exchange under the ERG symbol.
This document is not intended to encourage the purchase of securities listed on the TSX Venture Exchange. TMX Group and its affiliates do not endorse or recommend any of the securities referenced here. Please seek professional advice to evaluate specific securities.
Forward-looking statements
Certain statements in this Press Release contain forward-looking statements and information that may entail certain risks related to uncertainties. Such statements are based on management's expectations and no assurance can be given that potential future results or circumstances described in the forward looking statements will be achieved or will occur, as these statements are subject to numerous uncertainties and risk factors. Such risk factors include, but are not limited to, those related to the Company's ability to finance its activities, competition, ability to negotiate and maintain partnerships, the market acceptance of the Company's product, the strength of intellectual property, the success of research and development programs, the trust invested in sub-contractors or their core personnel as well as other risks and uncertainties that are put forth every now and then by the Company in the documents filed with various Canadian securities and exchange commissions and made available at www.sedar.com.
The reader should not give great importance to forward-looking statements as (i) the results may differ from conclusions, predictions or projections contained in such forward-looking statements; and (ii) certain important factors or hypotheses taken into account in reaching conclusions or the preparation of a projection or prediction may prove to be incorrect in fact.
These statements are correct only on the date on which they were written, and Management disclaims any obligation to revise these statements after any event, circumstance or other situation, except as required by law. All figures are in Canadian dollars, unless otherwise specified.
Neither TSX Venture Exchange nor its Regulation Services Provider (as that term is defined in the policies of the TSX Venture Exchange) accepts responsibility for the adequacy or accuracy of this release.
___________________________
1 Entreprise Ressource Planning software
2 Earnings before interest, taxes and depreciation (EBITDA) is a performance measure that is not established according to generally accepted accounting principles ("GAAP") in Canada, and is not a substitute for net profit. Because the EBITDA may not be calculated the same manner by every corporation, it may well be that the Company's results cannot be directly compared to similar measures used by other firms.
SOURCE Ergoresearch Ltd
For further information: Source: Sylvain Boucher, President and CEO – Ergoresearch Ltd., Tel.: 450-973-6700, ext. 213 / sboucher@ergoresearch.com; Information: Mylène Dumoulin, Communications Coordinator – Ergoresearch Ltd., Tel.: 450-973-6700, ext. 248 / mdumoulin@ergoresearch.com
RELATED LINKS
http://www.ergoresearch.com/28