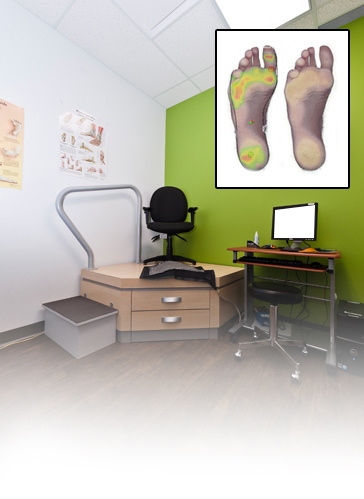 Podo-Barometric Sensor Pads & Scanners
Podo-Barometric Sensor Pads
Exclusive to Ergoresearch, our sensor pad device was developed and manufactured in Montreal. Thanks to high-deformation sensors, it produces a highly precise podo-barometric assessment. Each patient's foot pressure is recorded at load and at half-load, the data is then transmitted to the firm's computational servers and a top quality orthotic device is created featuring optimal performance.
Sensor array: 7,680 sensor points;
Sensor technology: Capacitive pressure sensing;
Pressure range: ~0.1 lb. to 100 lb. per sq. in.;
Spatial resolution: 5 mm.
Physical Characteristics:
Total: 73 cm x 62 cm;
Sensor surface: 2x (24 cm x 40 cm) / 4 cm apart;
Thickness: Approx. 2 mm;
Ambient temperature: 0°C to 40°C;
Ambient humidity: 5 % to 90 %.
The sensor array only requires a USB connection to work.
Scanners
Foot Assessments
Launched in 2011 by Ergoresearch, the WebFit® system includes a podo-barometric sensor pad (pressure range), an optical scanner and clinical software. It is the first bimodal system to produce a full podometric assessment. It ingenuously combines imaging and foot pressure points to offer the optimal assessment and foot imprints. These imprints are recorded at full and partial load using high-deformation sensors that are exclusive to Ergoresearch.
Clinical software then creates a complete medical report on foot condition, arch type, gait and anthropometry while integrating efficient photo-documentation and foot imprint analyses.
Technical Advantages
Photo-documentation of the foot with integrated podoscopy;
Capacitive sensors featuring high-deformation;
The industry's most performant capacitive pressure sensors (0.5 mm resolution per 0.5 mm) –unsurpassed resolution, and an extremely precise reading;
3D viewer;
Entire system can be integrated into a folding mobile podium – ideal for satellite clinics.
Copyright © 2012 Ergoresearch Inc. All rights reserved.