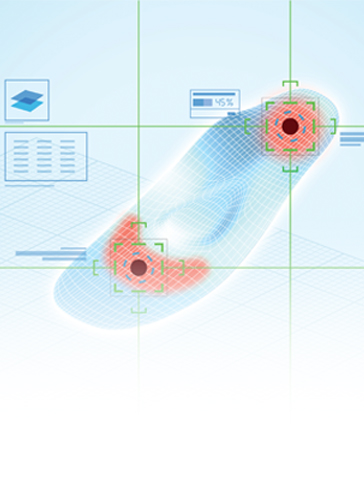 Custom Fit 3D Foot Orthotics
Orthotics
Orthotics comprises three unique elements:
A surface or design that corrects hyperpressure points or biomechanical alignment issues. There is a design adapted to each biomechanical problem, and to each individual;
A material: Main component of any orthotic device. Its choice determines absorption, the weight and the final resistance of the orthotic insert;
Corrective inserts: Often pre-manufactured, they are added to the orthotic device to increase patient comfort or range of function.
Custom Fit 3D Foot Orthotics
Ergoresearch's exclusive design is called Webfit®. Unique patented technology supports this design. It allows trigger points to be analyzed and determined by way of artificial intelligence, and the creation of an optimal orthotic design matching the foot's surfaces according to its pressure points.
The assessment is carried out at half-load. For each of the patient's feet, a numerical mold is created made of calibrated foam that mildly pressures and slightly deforms the foot's shape. Because structures splay under an individual's weight, to properly correct foot position a pressure assessment is absolutely necessary.
Ergoresearch's Exclusive Range of Foot Orthotics
WebFit® – Diabetes
WebFit® – Gonosteoarthritis
WebFit®
Copyright © 2012 Ergoresearch Inc. All rights reserved.